Auckland is by far New Zealand's biggest city, with 1.5 million residents out of a country that has a population of only 4.8 million. As such, it has an outsized cultural and economic influence on New Zealand and can inspire love or hate in Kiwis, but never indifference. To much of the rest of the country, Auckland folk are derided as "JAFAs" – Just Another F-ing Aucklander. But Aucklanders are probably too busy enjoying their cosmopolitan, brash, and yes, sometimes a little bit crass city to care.
Auckland is situated between the Manukau and Waitemata Harbours and is built upon a landscape of extinct volcanic cones. The suburbs of Auckland sprawl for miles and miles, with many people commuting to work from secluded bays and island communities. In fact, Auckland City covers such a large area that you can take a 30-minute flight from Auckland Airport and arrive at your destination without leaving the city limits. The centre city is not particularly charming, a kind of anonymous big-city environment of tall buildings and crowded business-hour streets. Yet there's also great nightlife to be found, excellent restaurants, and a lively cultural and artistic scene in town.
The city also has an interesting multicultural mix with a blend of Asian, European and Polynesian culture and it has the largest Polynesian population of any city in the world.
Many of Auckland's more interesting neighbourhoods are to be found in its inner suburban ring. Parnell is a short walk from the city centre and has a quaint old shopping area along with stylish restaurants and cafés. Walk a little further away from the centre and you come to Newmarket, a bustling neighbourhood which is a great place for no-nonsense shopping.
On the opposite side of the city is Ponsonby – the coolest neighbourhood in Auckland, with loads of cafés and bars lining the streets; nearby Karangahape Road (known widely as K Road), on the southern end of Queen Street, is the hip centre of nightlife and alternative culture.
A big part of the city's appeal is its great harbourside location. Auckland is called the "City of Sails", with one in ten Aucklanders said to own a boat, and it's easy to believe if you get out on the water on a sunny weekend afternoon. Sailing excursions can be booked, or you can just get out and take a ferry to Auckland's many nearby islands.
Almost everyone visiting New Zealand comes and goes through Auckland at some point. Many backpackers just stay in the downtown area and hit the bars and clubs of the Fort Street/Queen Street area – decent enough fun, but there's so much more to see and do in Auckland. It's the kind of place that rewards a bit of exploration.
Local transport
Auckland's public transport system is made up of buses, trains and ferries. In recent years it has become much easier to get around Auckland by public transport with Auckland Transport (AT) providing a co-ordinated transport network covering the entire Auckland metropolitan area.
Bus
The bus is the most convenient way for most travellers to get around the city. Although there are several companies operating urban and suburban buses in the Auckland area, all these bus routes fall under the umbrella of Auckland Transport's AT Metro brand with integrated ticketing and fare structure.
The three Link bus services are the most useful bus routes for most visitors to Auckland. The Link routes connect the main areas of central Auckland and generally operate more frequently than other bus services. The three Link bus routes are:
CityLink (red buses): a circular route in the city centre linking Wynyard Quarter, Queen Street and Karangahape Road
InnerLink (green buses): a circular route linking the city centre with neighbourhoods on the city fringe taking in Britomart–Parnell–Newmarket–Karangahape Road–Ponsonby–Victoria Park–Britomart
OuterLink (yellow buses): a circular route linking the city centre with inner suburbs taking in Wellesley Street–Parnell–Newmarket–Mount Eden–Mount Albert–Westmere–Herne Bay–Wellesley Street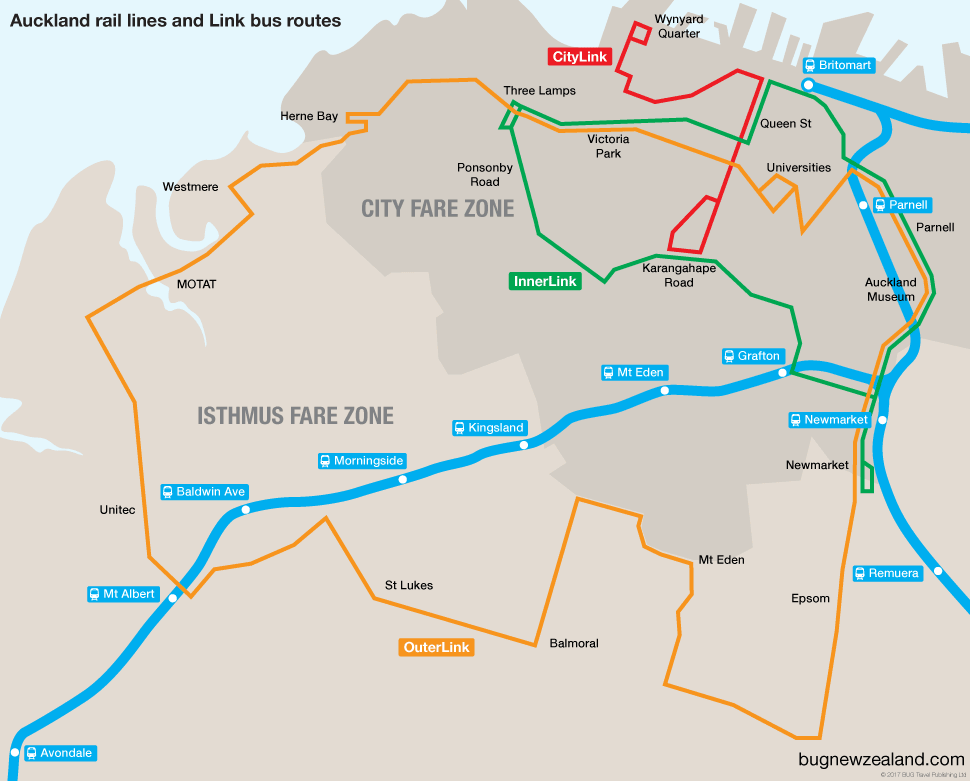 Bus fares range from $1 to $10 and most services in central Auckland cost $3.50–5.50 ($1.85–3.15 with an AT Hop card). Fares are higher on the SkyBus to and from Auckland Airport.
Ferry
There are frequent ferry services departing from the wharf behind the Ferry Building on Quay Street in downtown Auckland. Fullers Ferries run affordable commuter services to Devonport and Waiheke Island. The ferry journey to Devonport is a popular day trip and costs $6.50 one-way or $12 return ($4.60 one-way with an AT Hop card).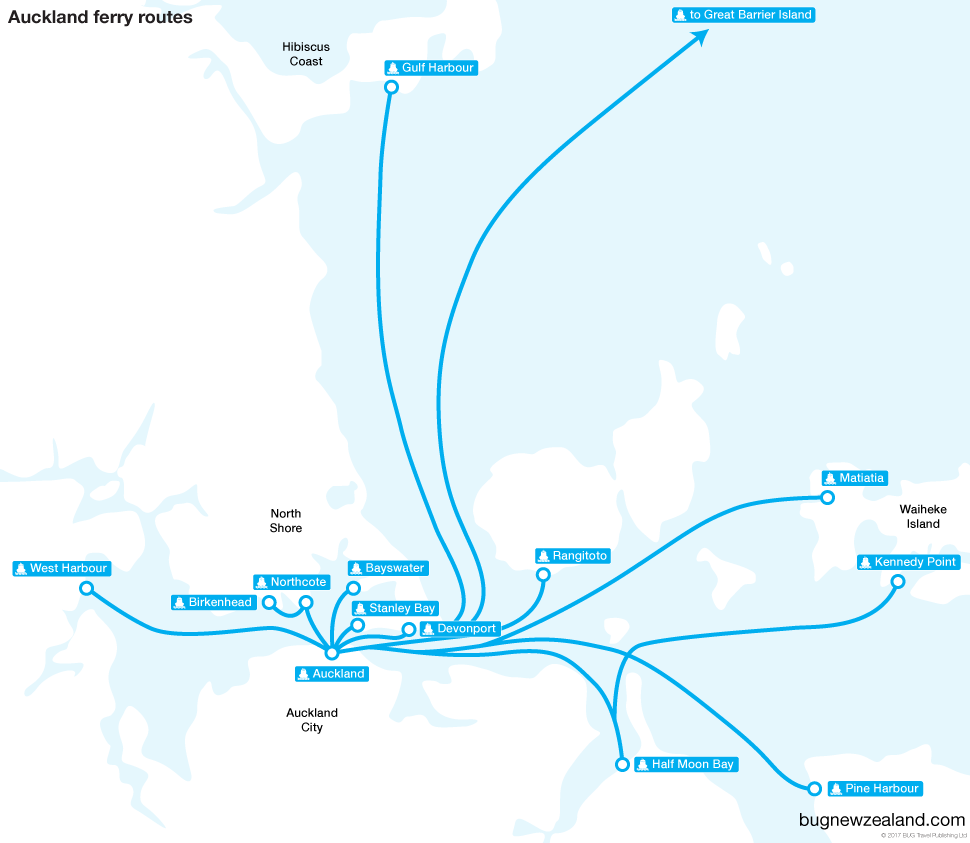 Train
Auckland has a fairly extensive suburban rail network with trains terminating at Britomart Station at the bottom of Queen Street in the city centre. Work is currently underway on the City Rail Link extension, which will extend the line underground from Britomart to Mount Eden with new stations at Aotea (near Aotea Square) and Karangahape (at Karangahape Road).
Train fares cost from $3.50 to $10 ($1.85–7.50 with an AT Hop card).

Fares
Fares on Auckland's public transport system are based on a zone system with a total of 13 zones in the Auckland metropolitan area. However, most trips that you're likely to take are unlikely to span more than two zones.
| | Cash fare | AT Hop card fare |
| --- | --- | --- |
| CityLink bus | $1 | $0.50 |
| 1 zone | $3.50 | $1.85 |
| 2 zones | $5.50 | $3.15 |
| 3 zones | $7 | $4.85 |
| 4 zones | $9 | $6.10 |
| 5 zones | $10 | $7.50 |
| 6 zones | - | $8.80 |
| 7 zones | - | $10.10 |
| 8 zones | - | $11.20 |
Cheaper fares with an AT Hop card
The AT Hop card is a stored value smart card (similar to the Oyster card in London) that gives you cheaper fares compared to paying with cash.
A blank AT Hop card costs $10 and you need to top up a minimum of $5 before you can use it. It is worth buying one if you plan on using public transport a lot and will be staying in Auckland longer than a week; but it is probably not worth it if you're staying in the city centre and only visiting for a few days.
With an AT Hop card you are charged per journey rather than per trip. Basically, this means that your complete journey involves catching a train and two buses, you will be charged for a single fare for the trip. However you are limited to a maximum five bus or train trips, you must start your next trip within 30 minutes of finishing your last trip and your complete journey must be completed within four hours.